Pros
A niche place to look for girls of Asian appearance.
There is a mobile application for Android with all the necessary functions.
The site does not bother users with intrusive advertising
Functionality, design, and user interface are quite convenient.
There is no matching algorithm so you will be forced to look for the best candidates manually.
Cons
Users complain about spam messages from bots.
The cost of credits is above average, plus they are spent quite quickly with active communication.
Only Asian girls, so you will have nothing to do on this site if your tastes are more diverse.
In 2015, the site was accused of using stolen photos of girls published without their consent.
Quick Summary
AsianDate.com may be a good choice if you are sure that Asian girl is the best type that suits your worldview. However, this platform has some issues with profiles authenticity, as well as not a flexible credit system. There is no app for iOS users and the company was legally prosecuted because of the stolen identities issue.
AsianDate Review – Make Sure You're Not Dealing with a Scammy Profile Before Taking Action
It is not surprising that Asian women attract men from all over the world. They are really beautiful, smart, loyal, and exotic. Moreover, there is nothing easier than meeting such a girl online – especially if you know where to look for her. In this review, we decided to tell you about a popular place that was created to unite men from all over the world with girls of Asian origin. However, is it really that simple? And yes and no at the same time. Let's deal with all the points one by one.
AsianDate Audience
75% of AsianDate.com's audience is made up of girls of Asian descent, regardless of country of residence. Well, this is great news for men – since the female audience is three times the male one, men have much more options. And women have much more reason for competition, respectively.
As for age, most users are young people from 25 to 34 years old. Also, pay attention to the goals of users who are going to this site. For the most part, everyone is looking for a partner for a more or less serious relationship, although it is certainly possible to find candidates for quick hookups as well. But since when registering only the "Man looking for a woman" option is available, all other variations immediately disappear.
Signing Up at AsianDate
As we have said, only men or women of Asian appearance can register on this site. The registration process is extremely simple, as on all platforms of this type – you will not need more than three clicks to complete this process. As usual, you can register using your Google account and speed up this process even more.
Design and Usability
As for the design, everything is simple and minimalistic here. There are no cool design solutions or mega functions, but only what is needed for productive communication.
The home page is made in the form of a minimalistic landing page, the registration form is right in front of your eyes, and further interaction also does not cause any difficulties. On the left you can manage your correspondence, on the right you can study the profiles of girls and immediately write to your favorite candidates.
User Account Features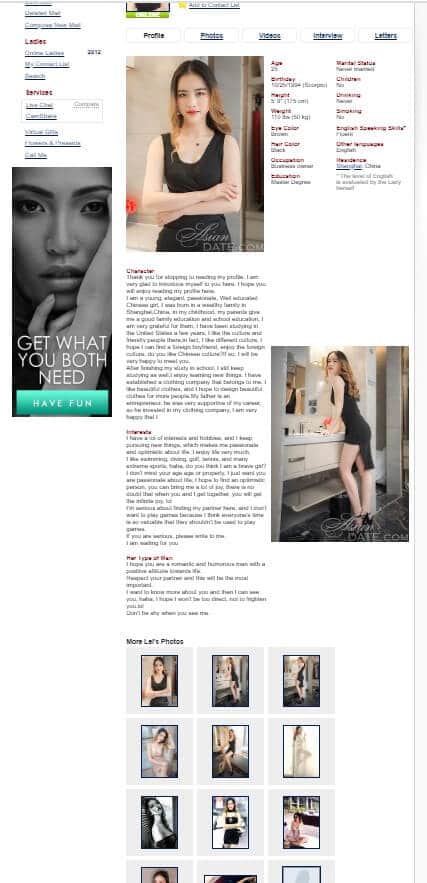 A positive feature of the platform is that men can view the profiles of girls completely and for free. Such a feature is paid on many online dating platforms, so this is a clearly competitive advantage.
As for the informational component of the profile, there is also no reason for complaints. The interface allows girls to add a fairly large number of photos, and write a fairly detailed bio. And most do it.
There is only one snag. Many profiles also contain videos, however, you will have to give away a few credits per view.
AsianDate Prices
The site does not disclose its pricing policy until the moment you register. Of course, this is a marketing ploy – they want to let you walk around the site for free, get your email, and then start offering you to buy additional features. We specifically registered to check current AsianDate prices in 2020.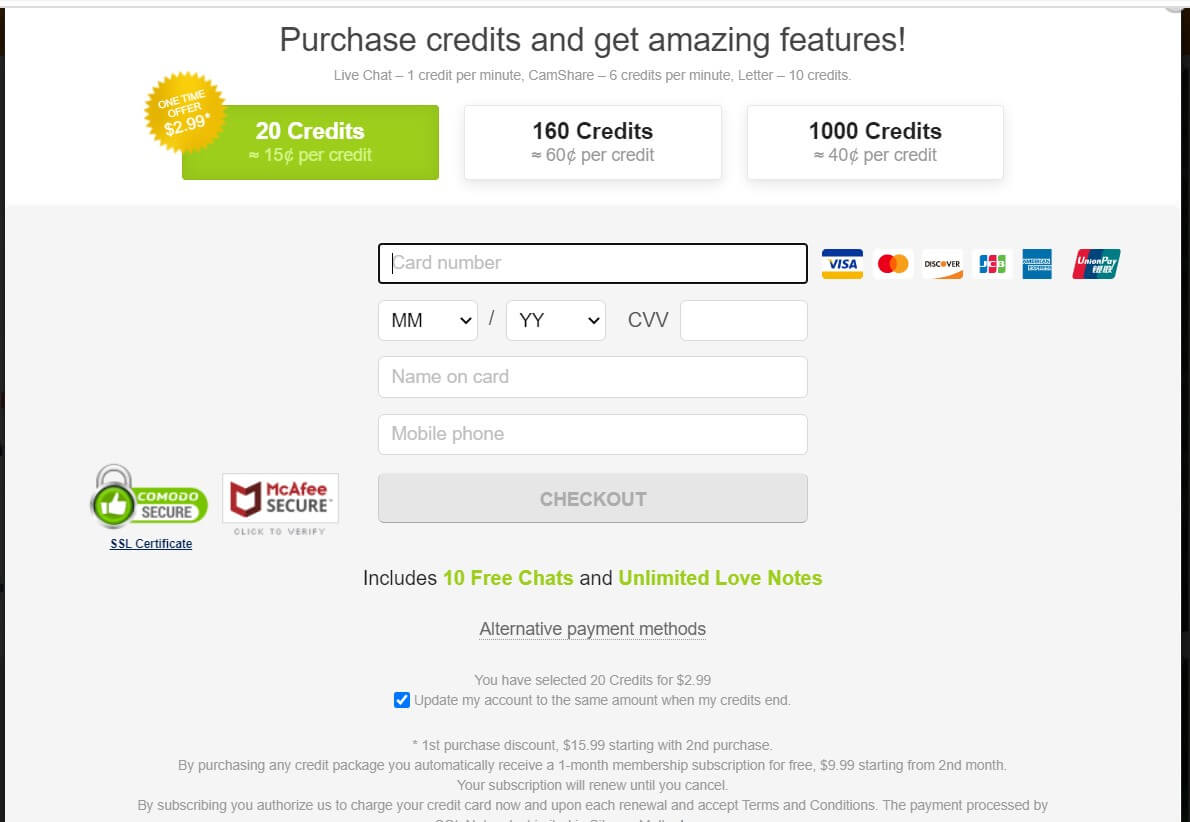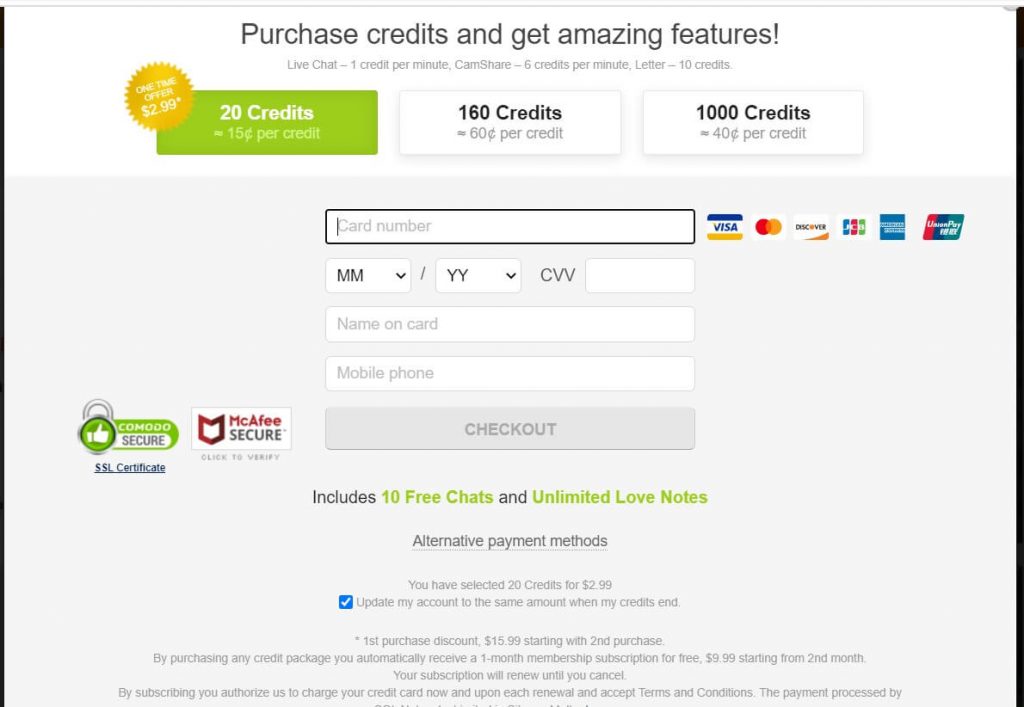 Please note that the site shows the cost of credits in cents to artificially reduce their cost. However, we converted cents to dollars so that you understand how much interaction on this site can cost you.
$3 per 20 credits – a one-time offer
96$ per 160 credits
400$ per 1000 credits
However, how to understand whether this is an expensive or cheap offer? Compared to other platforms, the prices are really a bit overpriced. For example,
live and video chat will cost about 10 credits in one session
a phone call will cost you 100 credits
sending gifts can cost from 10 to 900 credits, depending on what you want to give your girlfriend.
FAQ
Concluding our review, let's answer a few questions regarding the security of using this site.
Is AsianDate a Scam?
The site team actively convinces users that all profiles contained on the site are real, verified, and confirmed. However, in 2015, the site was embroiled in an unpleasant precedent when they were accused of hundreds of profiles containing stolen photos of girls without their consent.
Also, the ratio of male and female users is somewhat in doubt. The difference is too noticeable – 75% against 25%. As a rule, the ratio should be approximately the same, perhaps with a gap of up to five percent, so that the interaction on the site is really effective for everyone. So, maybe some share of girls' profiles is really not authentic.
In addition, spam messages also cause some distrust. So, the general advice is to be careful and not rush to buy a large number of credits and send expensive gifts.
Is AsianDate Safe?
In general, yes. This is a fairly safe place. Moreover, the site does not oblige men to fill out their profiles in full, as well as to confirm their identity. In addition, male profiles are not visible in the search, which means you can be sure that no one will know that you are using the platform. You can also use a specially created email address and a fictitious name to be even more confident in your safety.
Does AsianDate have a mobile app?
Yes, the platform has a mobile application available only for Android users. iOS users will have to do with a desktop or mobile version, both of which are convenient enough to stay in touch with the girls you liked.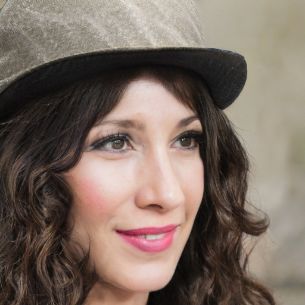 Kim Winters worked as a consultant on some popular online dating platforms. She knows firsthand what problems both men and women face when they start looking for a mate in another part of the world. She conducted rigorous testing for each website reviewed here so there are only objective facts and evaluations.