Pros
Users with similar backgrounds and interests
Two decades in the industry
Cons
Obsolete design of the site
Very small number of members
Only US and Canadian users allowed
Mobile apps are not available
Quick Summary
JPeopleMeet may be a good place to check out if you are a Jewish single looking for a partner who is guaranteed to share your beliefs and values. However, due to the very small size of the audience of JPeopleMeet, it is very unlikely that you will actually find your match.
Full JPeopleMeet Review
JPeopleMeet.com was launched in 2000 and is owned by People Media, a company behind a few well-known niche dating sites. For years, JPeopleMeet has been the top place for single Jewish men and women, as well as those who are not Jewish themselves but want to meet a Jewish partner, went to communicate. But is JPeopleMeet still a worthy alternative to the more popular and established dating sites? Find out from our JPeopleMeet review!
JPeopleMeet Audience
As you can easily guess from the name and the visuals on JPeopleMeet.com, its primary audience includes Jewish singles and people who want to find a Jewish partner but belong to different ethnicities. Surprisingly enough, JPeopleMeet is only open to users from the US and Canada, while access from any other country in the world is prohibited.
Due to this selective approach to new users, as well as the dated look of the site, the audience of JPeopleMeet is tiny even by niche dating standards. Overall, there are only 40,000 people who have signed up for the site, and that's including accounts that were created years ago but are no longer active. That is why you won't see a lot of diversity and activity on JPeopleMeet.
Signing Up at JPeopleMeet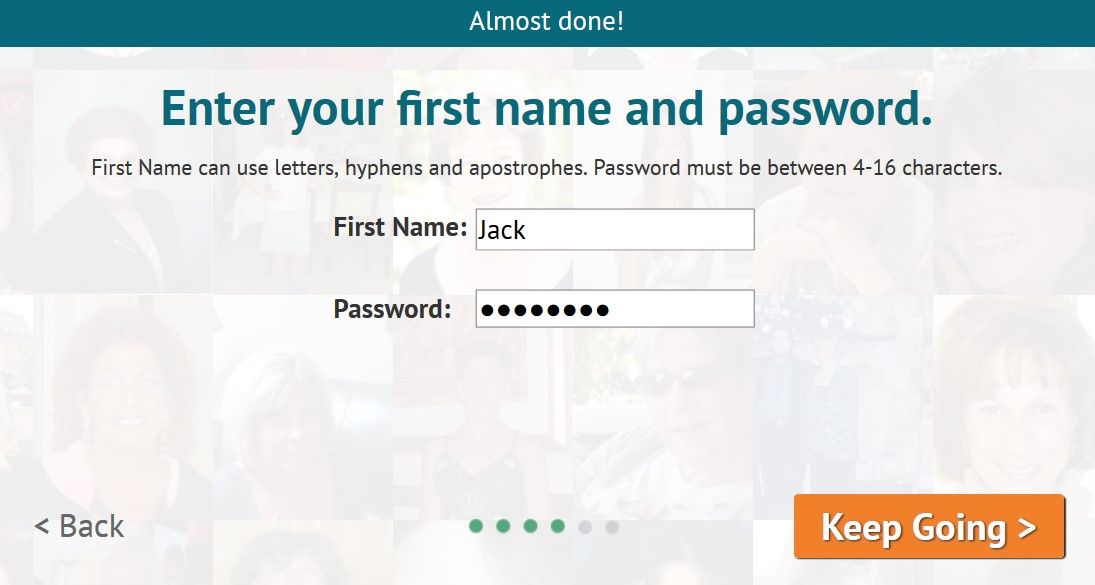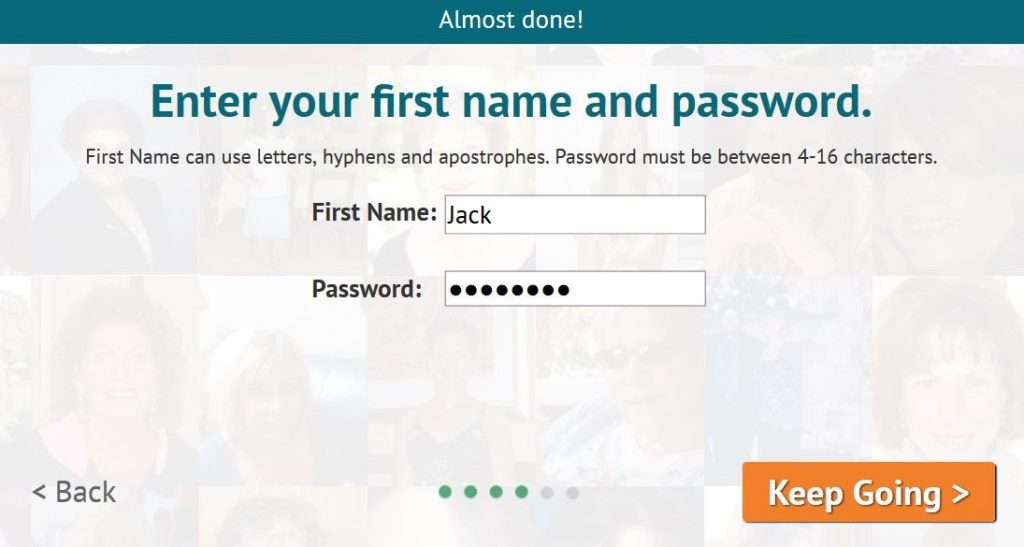 The home page of JPeopleMeet.com does not really tell you anything about the service, but if you want to check it out, you will need to first create your account. Signing up for the site is a tedious process with numerous steps and will take you from 5 to 10 minutes to finish the registration.
You will need to answer questions about your age, name, dating goals, and location, including providing a valid ZIP code. The site will also ask you to include your profile photo and introduction. Surprisingly enough, you won't be asked to specify whether you are Jewish or asked about your spiritual habits, but you will be able to fill in those fields later.
Design and Usability
The history of JPeopleMeet started in 2000, and within your first minutes on the site, you can already tell it's a rather obsolete dating service. The graphics and navigation on JPeopleMeet.com are not outrageously bad, but they also don't add to your enjoyment from using the website.
You can find the main site menu on top of the page. Here you can adjust your settings, edit your profile, see the matches selected by the system based on your age and location, check out your messages, or try the search feature. If you are looking for something specific, you may be disappointed to find out that the search on JPeopleMeet is very basic and only allows you to look for other members using a couple of parameters: build, ethnicity, marital status, children, as well as synagogue and kosher views.
User Account Features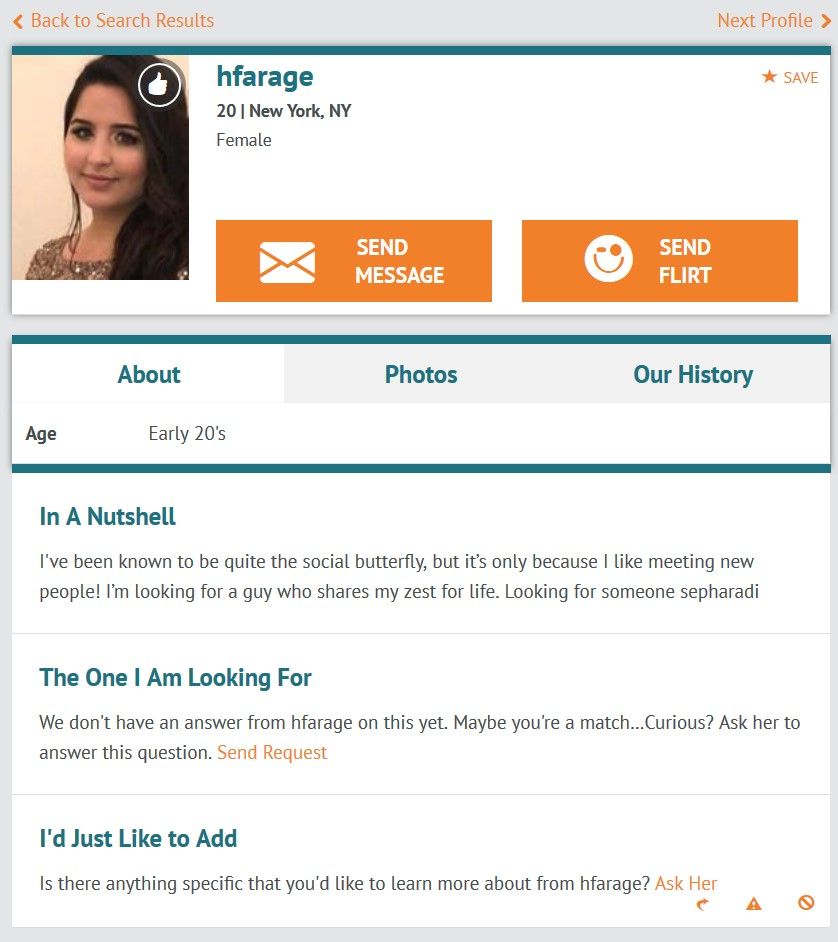 The profiles on JPeopleMeet are possibly the least detailed user profiles we have ever encountered. Even though you have to spend what seems like ages on filling out the fields while signing up for the site, it still doesn't result in detailed profiles that can tell you a lot about the person before you decide to make the first move.
From a typical person's profile on JPeopleMeet.com, you can learn their age, location, occupation, income, and religious habits. Some users also choose to write their own introduction that can help you learn more about your potential match. The thing we also did not like about JPeopleMeet is that there are only two contact options available: flirt and message, and even they are only available to the paying members of the site.
JPeopleMeet Prices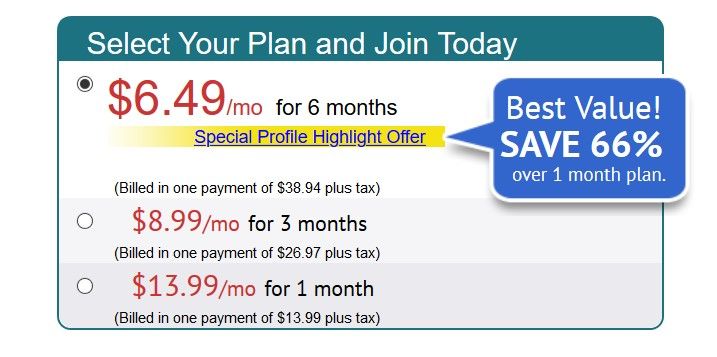 On JPeopleMeet, you can create your account and browse the profiles without paying anything, but you need a paid membership if you want to communicate with other users. Here are the features that are only available to paid subscribers of the site:
Reading and sending messages
Seeing who added you to their Favorites
Seeing who sent you a Flirt
Chatting with other users who are online
Regarding the chatting option, we have to say that there are usually not a lot of users you can chat with. We logged into JPeopleMeet.com several times at different hours and we only got one to three potential chat partners based on our location. Still, if you want to give chatting and other features a try, you will need to pay from $6.49 to $13.99 per month, depending on the length of your membership.
Frequently Asked Questions
Is JPeopleMeet a scam?
No, JPeopleMeet is not a scam. The site has been working in the online dating niche for over two decades and while it's not the most popular or biggest dating site, it still enjoys a certain level of popularity and trust among its target audience.
Is JPeopleMeet safe?
At the moment, there is no evidence that could suggest JPeopleMeet.com is not a safe place to be. There is a rather detailed Help section on the site with over 100 answers to the most popular questions users may have. Plus, you can contact customer support in case your question is not answered, but you can only do it via a form on the website, which means no one guarantees a quick reply.
Does JPeopleMeet have a mobile app?
No, there is no JPeopleMeet app you can download to your mobile device, and, after seeing the dated design of the desktop version of JPeopleMeet.com, you probably won't be surprised to hear that. There is a mobile browser version of the site you can open from your phone, but it doesn't look more modern than the desktop site.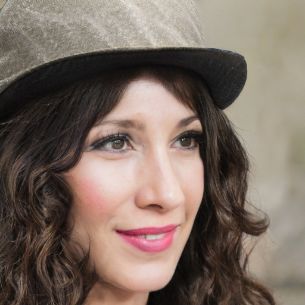 Kim Winters worked as a consultant on some popular online dating platforms. She knows firsthand what problems both men and women face when they start looking for a mate in another part of the world. She conducted rigorous testing for each website reviewed here so there are only objective facts and evaluations.